Events
Ancestors In Training: The Dance Floor As Sacred Space
Caribbean Cultural Center (CCCADI)
120 east 125th street, New York, New York 10035
"We are the ancestors of the future and what we do now will have an impact." - Yeye Luisah Teish
This is part 2 of the 3-part Ancestors in Training series created and facilitated by Veronica Agard of Vera Icon LLC.
Sometimes we pray with our feet. We move to a rhythm that feels tenderly familiar, stirring up memories of our loved ones and our people. How can we understand the ancient and the contemporary? What does it mean for when we take the bembe to the museum? Can we square the rigor of the academy with the intentions of parties to curate multifaceted spaces? How do we continue to honor the families and networks that are created with respect?
Join Chiquita Brujita, DJ Brujo Boogie and BEMBONA for a community conversation on the Dance Floor As Sacred Space, the second session of the Ancestors in Training series.
---
When: Thursday, September 13, 2018
Time: 6:00 PM - 8:00 PM
Where: Caribbean Cultural Center African Diaspora Institute (120 East 125th Street, East Harlem)
Admission: $10.00 | Purchase Here 
---
Meet Veronica Agard: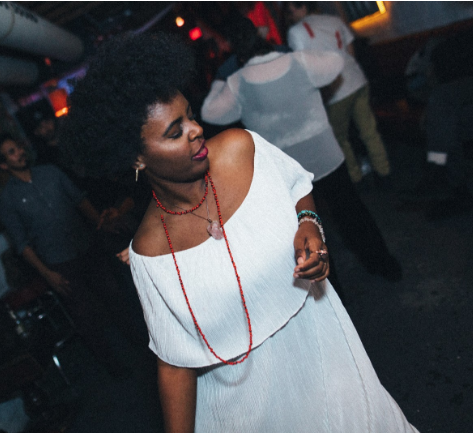 Veronica Agard is an alchemist, educator and connector at the intersections of Black identity, wellness, representation, and culture. Of Afro-West Indian, African-American and Indigenous descent, she continues to experiment with healing modalities such movement, singing, herbalism, divination, capoeira, and yoga. Her primary channel is writing, and holds healing space for the community through writing cyphers. She is the curator of the Who Heals the Healer series and the conference of the same name. 

No matter the role, she offers her expressions as a means to amplify the voices of those that walk with her. She seeks to do this work through her latest platform, Vera Icon, LLC.
Photo credit: New Visual Collective
Links:
Interview at Black Abundance BK on Who Heals the Healer
http://www.blackabundancebk.com/people/who-heals-the-healer-a-conversation-with-veronica-agard
Ancestors in Training: the class -  Sadie Nash Leadership Project Final Presentation - https://tinyurl.com/ancestorsintraingvideo
Reparations Black Wellness Clinic Fundraiser https://www.gofundme.com/reparations-black-wellness-clinic
---
Panelists:
DJ Bembona is a Puerto Rican-Panamanian DJ, Multi-Platform Artist & Activist, born & raised in Brooklyn, NY. Her work represents & pushes forward the Afro-Diasporadical movement, Latinx/Indigenous/Caribbean/African, with the purpose of empowering & bridging the gap between POC communities, generations, activist work & beyond.
Links:
REMEZCLA: Boricua-Panameña DJ Bembona is Spinning the Soundtrack to Latinx Social Movements
OKAYAFRICA: DJ Bembona Found her Afro-Latina Identity Through DJing
VIBE: This Sh*t Is For Us: Black Diasporic Women Are Running New York City's Underground Music Scene
---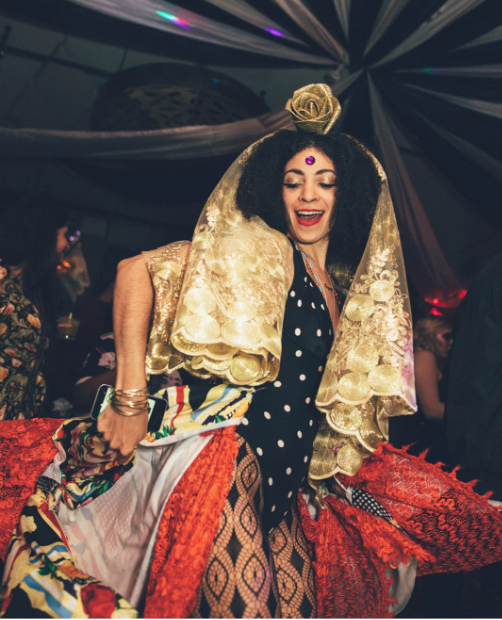 Chiquita Brujita is a third generation Nuyorican Bruja, performance artist, and conjurer of fiestas.
Best known for her eponymous line of prayer candles, she has worked in partnership with local institutions including El Museo del Barrio, Brooklyn Museum, and Bushwick's House of Yes.
Links: 
Hoodwitch: http://www.thehoodwitch.com/blog/2018/7/2/goddess-of-the-week-chiqiuta-brujita
Photo credit: Mario Ruben Carrión
---
DJ Brujo Boogie is a Caribbean-born spirit with a deep appreciation for all things rhythm-_drums, horns, strings, synthesizers, you name it! Growing up in the eclectic South Bronx with a Borinken father and Quisqueyan mother meant soaking up the sounds of everything from Soul, Salsa, Spanish ballads and, of course, Hip Hop and all of its predecessors. Life is a party, dancing is magic and records are the spells we cast to conjure it!

Apart from personal work and solo gigs Brujo Boogie also takes pride in being one of the founding member of Uptown Vinyl Supreme, a New York City-based collective of vinyl DJs dedicated to using music and parties as a way of celebrating community and creating safe spaces for POC and allies. "Vinyl To The People" is the mantra and coming together is the power.
Links: 
Youtube: https://youtu.be/ZhHM2oNqUkQ (Brujo on hip hop and UVS origins) 
More on Uptown Vinyl Supreme: https://www.uptownvinylsupreme.com/press/
Photo Credit: Carla Lopez
Categories: