Events
CUBA Y PUERTO RICO: Puerto Rican Artists Relief Auction
120 East 125th Street

(btw. Park and Lexington Avenues)

New York, NY 10035
FREE
CUBA Y PUERTO RICO SON DE UN PÁJARO LAS DOS ALAS: PUERTO RICAN ARTISTS RELIEF AUCTION
Proceeds Benefit Puerto Rican Artists' Hurricane Relief Fund
The evening will begin at 6:00 p.m. with a festive reception featuring hors d'oeuvres and aperitifs, musical entertainment and auction preview. The auction will begin at 7:30 p.m.
A year after Hurricanes Maria and Irma devastated the island of Puerto Rico, its residents are rebuilding and reimagining their futures. Artists play a vital role in Puerto Rican society and culture. They also face unique challenges when natural disasters hit since many live, work and sell their art from a single space. Artists working in Cuba reached out in a show of solidarity with their Puerto Rican counterparts to organize an auction of fine art prints by many of the leading printmakers currently working in Cuba, Puerto Rico and throughout the diaspora.
In the spirit of friendship and solidarity, the Caribbean Cultural Center African Diaspora Institute (CCCADI) in collaboration with El Taller Experimental de la Grafica de la Habana, Havana, Cuba; Las Jornadas del Grabado Puertorriqueño, Inc., San Juan, Puerto Rico; BOZARTE LLC and Ancestral Imprint Yoruba Association, Inc., will auction over 75 fine art prints. Proceeds from the auction will be used for a relief fund, administered by Las Jornadas del Grabado Puertorriqueño, Inc. to help Puerto Rican artists affected by the hurricanes.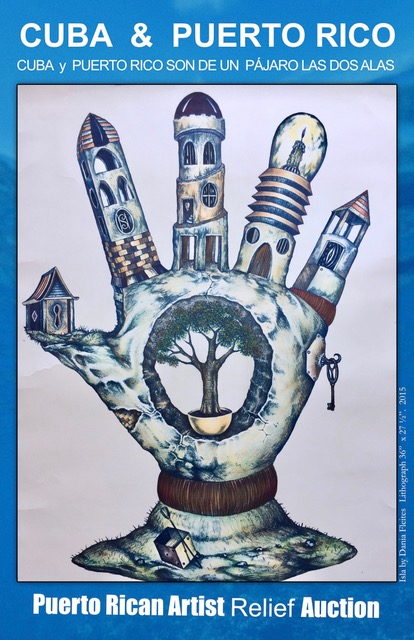 To date, artworks have been donated by Rosenda Alvarez Faro, Imna Arroyo, Yamilys Brito Jorge, Pablo Amancio Borges Delgado, Ismari Caraballo Milanes, Marie Court, Indiana Cruz Rodríguez, Lizette Cruz, Osvaldo De Jesus Cruz, Carlos Del Toro Orihuela, Juan Roberto Diago Durruthy "Diago", Humberto Figueroa Torres, Nereidní Feliciano, Dania Fleites, Edgardo Hechavarría Ricardo, Martin Garcia Rivera, Aliosky Garcia Sosa, Ian Marcos Gutiérrez, Katherine Guzman, Octavio Irving Hernandez Jiménez, Haydee Landing, Luis Lamothe Duribe, Alexis Leiva Machado "Kcho", Nitzayra Leonor, Isolina Limonta, Rubildo Lopéz, George Malave. Poli Marichal, Paulina Marquez, Antonio Martorell, Juan Carlos Menéndez, Marcel Molina, Raimundo Orozco, Francisco Rafael Paneca Cano, Hanoi Pérez Cordero, Guillermo Ramírez Malberti, Ada Rosa Rivera, Nilda Rivera, Aziyade Ruiz Vallejo, Fernando Santiago Camacho, Ricardo Silveira, José Omar Torres López, Migdalia Umpierre, Elio Yoel Valdivia, Myriam Vazquez, Yolanda Vazquez, and artists from Taller Boricua and the Rafael Tufino Print Workshop.
An exhibition of the auction artwork, curated by Benjamín Ortíz of BOZARTE LLC, will be on display from September 20 – October 18th.On October 4th from 6-8 PM, the CCCADI will host a lively artists' talk.
The CCCADI's hours of operation are: T, W, F 12-6 PM and Th 12-8 PM
---
WHEN: October 18, 2017
TIME: 6pm - 8pm
WHERE: Caribbean Cultural Center African Diaspora Institute
ADMISSION: Free with RSVP | Optional Suggestion Donation $5.00
Categories: