Events
#GodBoxTalk | Year of Return: Pan-African Interfaith 400 Years Dialogue
Caribbean Cultural Center (CCCADI) | 120 E 125th St | New York, NY 10035
President Trump recently signed a bill (HR 1242) that marks the year 2019 being the 400 years since the first African slave was brought to America. In response to this commemoration, the Government of Ghana declared 2019 as the Year of Return for African Americans to return to Ghana and reconnect and reclaim their ancestral heritage.
For Pan African religious groups who interpret the Bible through an African lens, this acknowledgment correlates with the Exodus story in the Bible. Like our ancestors, Africans of the Diaspora have also been in bondage and under oppression for 400 years. Africa today, represents the proverbial wilderness and like our ancestors, Africans of the Diaspora are embarking on a sojourn into the wilderness with much wealth. Consequently, the year 2019 marks a time of liberation. However, our history, from this exodus story to the abolishment of slavery and decolonization, shows how complex freedom truly is. How then shall we meet the challenges that this proverbial wilderness in 2019 will bring?
The God Box Foundation (TGBF) in collaboration with the Caribbean Cultural Center African Diaspora Institute (CCCADI) presents God Box Talks "Into the Wilderness." This will be an interfaith dialogue between Pan African religious and spiritual leaders addressing what the 400 years signifies, what liberation should look like for the Pan African family and whether Africa is indeed the answer?
---
Panelists include: 
Sister Onleilove Alston, Dr. Samuel Cruz, Manbo Dowoti Desir, C. Daniel Dawson, Dr. Mikail Deveaux, Professor James Smalls, and Dr. Sednak Yankson!
Moderated By:
Kobina Gilbert Bouhairie founder of The God Box Foundation 
---
Program Schedule:
6:00 pm - 6:30 pm | Check In / Registration 
6:30 pm - 8:00 pm |  Panel Discussion
8:00 pm - 9:00 pm | Q & A / Wine & Cheese Reception
---
Date: Wednesday, February 27, 2019
Time: 6:00 pm - 9:00 pm
Admission: Student: $10.00 | General Admission: $15.00 | Buy Your Tickets Here 
This event is brought to you by The God Box Foundation and the Caribbean Cultural Center African Diaspora Institute.
---
MEET THE PANELISTS
Onleilove (pronounced Onlylove) Chika Alston, Founder of Prophetic Whirlwind was born and raised in East New York, Brooklyn. Currently, she is the executive director at PICO-Faith in New York, where she leads a multiracial and multifaith organizing federation of 70+ congregations representing 80,000 New Yorkers who are working to Build the Beloved City — where all of God's children can live in dignity. Onleilove is also a community organizer, speaker, and writer.
 
After receiving her bachelor's degree in Human Development with a minor in African-American studies from Penn State University, she completed a year of service with AmeriCorps Public Allies New York. In 2011, she received her Master of Divinity and Master of Social Work degrees from Union Theological Seminary and Columbia University School of Social Work, respectively.
 
Her writing has been featured in Sojourners magazine, Huff Post Religion, The Black Commentator, and NPR's On Being blog, as well as in other print and online publications. Having experienced poverty and homelessness, she has developed a compassion for people fueled by her passion for justice, and knows that the gospel is truly "good news to the poor." Onleilove serves on Mayor Bill de Blasio's Clergy Advisory Council, the board of directors for Sojourners and ALIGN, as a Commissioner for the Poor People's Campaign and on the advisory boards for the Women's Organizing Network and The Micah Institute. She has completed The Beatitudes Society Senior Fellowship, The Collegeville Institute Fellowship and the FPWA Faith and Justice Fellows Program. A womanist Onleilove writes and lectures on the implicit bias of colorism and its impact on African-American women; leading A Women's Theology of Liberation and Live Free W.O.M.B. (Women Organizing Out of Mass Incarceration and Brutality) for the PICO Network. In 2016 Onleilove testified before the United Nations Working Group for People of African Descent Testimony on Mass Incarceration's Impact on Black Women & Girls.
 
She has been a featured speaker and workshop facilitator at CCDA, Dartmouth College, Why Christian, Sojourners' Summit, The 2015 African Hebrew Conference in Israel, and The Samuel Dewitt Proctor Conference among other conferences, congregations, and organizations.
For her writing and activism work, Onleilove has received the Public Allies New York Local Alumni Award, The Lost Angels Society Survivor Award, The Bennett Fellowship for Social Justice from Auburn Seminary, the National Association of Social Workers-NYC Scholarship for Social Justice, United Food and Commercial Workers International Union Minority Coalition Young Adult Award, and the 2011 Evangelical Press Association's Student Writer of the Year First Place Award for her Sojourners cover story: "Dethroning King Coal: Christians defend a way of life, and the earth, in Appalachia."
 
Her travels and work have taken her to Scotland, England, Switzerland, Israel, Ghana, and Togo.
 
Onleilove has five siblings and a large extended family. She worships at Beth-El The House of Yahweh where she co-leads the Missions and Evangelism Team and is an active member of Inner City Light House. For everything she has accomplished Chika says To Yah Be the Glory!
Dr. Samuel Cruz is an Associate Professor of Religion and Society Samuel Cruz at Union Theological Seminary. He completed his B.A at College of New Rochelle, N.Y in 1987. He then received his M.A, Magna Cum Laude at New Brunswick Theological Seminary, N.J in 1994.  He earned a M. Phil and a PhD at Drew University, NJ in 1999 and 2002 respectively. Dr. Cruz lectures throughout Central America, the Caribbean, and the United States on Latino and The Hispanic Caribbean as well as African Diasporic Religions. His publications include two books, Masked Africanisms: Puerto Rican Pentecostalism (2005), Christianity and Culture in the City: A Post-Colonial Approach (2013). He is currently working on a book project "Latinas and the LGBT community: Implications for the Church and Beyond." He has published columns on civil rights for El Diario la Prensa and The New York Daily News. Most recently advocating for civil rights for the LGBT community, humane immigration policies, opposing "Stop and Frisk" police practices and critiquing the prison industrial complex. Dr. Cruz has been recently featured in the Stop and Frisk docu-series: "The Pastor." He is a frequent guest on MSNBC, Melissa Harris-Perry show, a frequent contributor to WBAI, and various other media outlets.
A multi-talented artist, C. Daniel Dawson has worked as a photographer, filmmaker, curator, arts administrator, consultant, and scholar. He has served as Curator of Photography, Film and Video at the Studio Museum in Harlem, New York; Director of Special Projects at the Caribbean Cultural Center, New York; Program Manager at the American Museum of Natural History, New York; and Curatorial Consultant and Director of Education at the Museum for African Art, New York. As a photographer, he has shown in over 40 exhibitions and curated more than 70 exhibitions including Harlem Heyday: The Photographs of James Van Der Zee and The Sound I Saw: The Jazz Photographs of Roy DeCarava. Prof. Dawson has also taught seminars on African Spirituality in the Americas at Columbia University, University of Iowa, New York University, and Yale University. He currently works with New York University (the Gallatin School), Columbia University (IRAAS), and Lincoln Center Out-of-Doors (La Casita)
Manbo Dòwòti Désir is the Founder and President of the AfroAtlantic Theologies & Treaties Institute (ATI) www.ATI-global.org, and the DDPA Watch Group. A human rights activist, Manbo Désir is the Chairperson of the NGO Committee for the Elimination of Racism, Afrophobia and Colorism located at the United Nations.  She lectures extensively on the objectives of the International Decade for People of African Descent 2015-2024. She is the designated UNESCO Expert for the International Slavery Museums and Sites Conference 2018, who has worked on cultural policy and development with the International Labour Office in Geneva. The former Brooklyn College, CUNY professor, serves on the Advisory Broad of the Drammeh Institute. Désir was the Executive Director of the Malcolm X & Dr. Betty Shabazz Memorial Education, and Cultural Center. With 30 years in the arts, she was tasked as a curator, public education programmer and administrator at the Lower Manhattan Cultural Council, The Metropolitan Transit Authority/Art for Transit,  Arts International of the International Institute of Education, the Studio Museum in Harlem, the Schomburg Center for Research in Black Culture/NYPL, among others. She is a practicing photographer, an essayist, and educator, whose work is focused on the contemporary art and culture of the African Diaspora; and the religions and sacred arts of the Afro-Atlantic region. Désir has traveled extensively to over 40 countries documenting the historic sites, memorials and monuments of the Transatlantic Slave Trade in Captive Africans. www.maafamemories.com, The author and co-author of Conjuring Memory in Spaces of the AfroAtlantic www.conjuringmemory.com, Essays in Human Rights: A Vodou Priest's Perspective, and Personal Vision: Photographs Adger Cowans. She is a Manbo Asogwe (High Priest) in Haitian Vodou, and in 2015 served as the official Spokesperson of, and Ambassador to the Haïtian Diaspora, entitled, the Gwètòde de Outre-Mer, appointed by the late Ati Nasyonal Max G. Beauvoir of the National Confederation of Haitian Vodouists (KNVA, in Haïti). In this capacity, Manbo Désir was the sole representative the global Haitian Vodou community at the high-level summit, "International Launch of the African Initiative for Education, Peace and Development, Interreligious and Intercultural Dialog: Coexistence, the Key to Dialog," which focused on security in Africa (Cotonou, 2015). She is a Sare (Chief) of the Organization of African Vodou Religions in Republics of Benin and Togo (OCVA). Manbo Désir has served as a cultural consultant for numerous films, documentary, theater and radio programs including The History Channel, Blue Bloods, and Little Children Dream of God at the Roundabout Theatre. Manbo Désir is the first Manbo licensed to marry couples in the State of New York, and is the first Vodou Priest to graduate from the social justice clergy cohort of Faith in New York. Désir is a graduate of Barnard College, Columbia University and has a Master's degree in contemporary art and critical theory from the Center for Curatorial Studies, Bard College. She is committed to the holistic health and wellbeing ofcommunities-of-color and is an advocate of African spiritual practices as eco-theologies of liberation in relation to the human rights of African descendants, and the demand for reparations.

Professor DeVeaux is a lecturer at Nassau Community College (SUNY).  He is the co/founder and Executive Director of Citizens Against Recidivism, Inc., directs Citizens' Muslim Re-entry Initiative, and is a certified anger management facilitator. Dr. DeVeaux is also the founder and principal at DeVeaux Association, a consulting firm that provides evaluation, monitoring, and other services for nonprofits. 

Dr. DeVeaux has over three decades of experience working with men and women impacted by the criminal justice system. His research interests include hyper-incarceration's impact on the African America community, Black male incarceration, community reintegration of Black male incarcerates, incarceration policy, and class/racial inequality. His most recent research relates to the components of success post-prison as defined by formerly incarcerated Black men who have lived productive lives in their communities.

Professor DeVeaux has published papers in the Harvard Civil-Rights Civil Liberties Law Review,Journal of Law and Criminal Justice,  New Directions in Evaluation: A  Publication of the American Evaluation Association, Journal of Offender Rehabilitation, Crescent International, Journal of Social Issues (co-authored), and others. 

He is the recipient of several fellowships related to his doctoral studies in social welfare including Anne Nora Dissertation Award (2016-2017), Dean  K. Harrison Fellowship, CUNY Graduate Center (2015 – 2016), Doctoral Student Research Grant, CUNY Graduate Center (2014-2015), Dean  K. Harrison Fellowship, CUNY Graduate Center (2011 – 2013), Advance Research College Student Fellowship, CUNY Graduate Center (2012), University Fellowship, CUNY Graduate Center (2011 – 2016), Sunshine Scholarship (2011-2016), and the recipient of a Soros Justice Fellowship (2006 – 2007) for advocacy that focused on policy and program development within the Muslim community around justice involvement and re-entry issues.  His dissertation was an honorable mention for the 2018 Society for Social Work and Research Outstanding Social Work Dissertation Award. He has also received recognition from public officials for his advocacy around issues related to incarceration, re-entry and civic engagement.
Professor James Small joined the Organization of Afro-American Unity founded by the legendary Malcolm X. In 1967, he became Imam (minister) of the Muslim Mosque Incorporated, also founded by Malcolm X. Prof. Small is also a priest in the Yoruba religion and taught for nearly twenty years at the City University of New York, including 17 years at the City College of New York's Black Studies Department with thirteen of those years serving as an administrator and two years at New York City Technical College. Prof. Small has taught courses on Malcolm X, Traditional African Religion Pan Africanism, Crime in the Urban Community, Urban Crisis and Issues, and African Folklore. He has lectured at some of the most prestigious colleges and universities in the world. Prof. Small has also appeared on a number of network talk shows and news magazines. Prof. Small is currently conducting educational and cultural tours throughout Africa and the United States and he is also working on two books, one a collection of his lectures on Malcolm X and the other on the topic of "Post Slavery Trauma Syndrome."
Pastor Sednak Kojo Duffu Yankson is Africa's Ambassador to The Diaspora and the interpreter of Indigenous African - Biblical Symbolism. He is the current Pastor of Canarsie and the New Dimension S. D. A. Church in Brooklyn, New York. He earned his B.A in Theology at Oakwood College in Huntsville, Alabama. He then earned a Masters of Divinity at Andrews University and is currently a D. Min Candidate at Andrews University. Pastor Sednak Kojo Duffu Yankson lives at the junction where African Religious Culture and Biblical Theology meet. He was born in Ghana into the Asona Royal Clan of the Fante Tribe of the Akan people in Ghana. He grew up in the palace and is no stranger to the African Religious Heritage. His exposure to African Religious Concepts and Biblical Theology has given him a unique understanding of theological African Heritage. He authored "AFRICA'S ROOTS IN GOD – The knowledge of the true God embedded in the African Culture" and has authored many more books in the Sankofa Heritage Series
---
The God Box Foundation (TGBF) is a Pan African Interfaith Organization that embraces, celebrates and promotes the spiritual and religious diversity of the Pan African family. TGBF provides a welcoming, loving, respectful and nurturing platform for religious scholars and bodies, spiritual and traditional practitioners, and all children of God. TGBF helps all to gain the experiential and intellectual knowledge of the multiplicity and universality of God within all our unique and diverse particularities.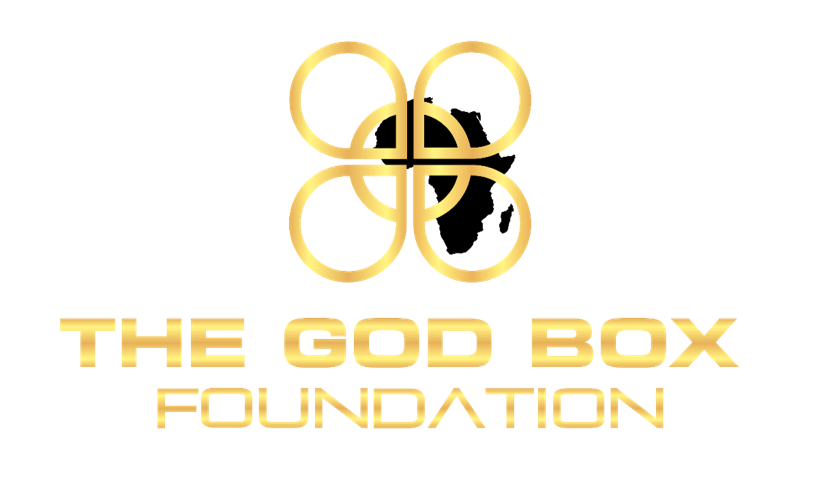 *Program Subject to Change
Categories: